A disabling illness can strike any time, lasting from a few months to a lifetime. The most common causes of long-term disabilities — musculoskeletal and connective tissue disorders, cancer, injuries and poisoning, mental disorders and cardiovascular and circulatory diseases — can affect your ability to perform the specialty you were highly trained to do. That's why many physicians are searching for affordable "own occupation" coverage.
Superior Coverage to Protect Your Medical Specialty
Not all disability policies provide the same level of protection. Some policies will reduce or eliminate your disability benefits if you are still able to work in another occupation. With Guardian's "own occupation" coverage, if your disability prevents you from performing the material and substantial duties of the medical specialty you were engaged in at the time of your disability, you will still receive your full benefits. Furthermore, even if you do decide to work in a field other than your medical specialty, you will still receive your full benefit.
10% Discount for the Life of Your Policy
Guardian, an A++ superior-rated insurance company, offers true "own-occupation" coverage that has been made more affordable for TMA members with an exclusive 10% discount. And, the discount applies for as long as you keep your policy — which could add up to thousands of dollars over the life of your policy.
800-880-8181 7:30 – 5:30 CST Monday – Friday
Many members also enjoy the following benefits:
Your policy can't be cancelled – Once premium rates are approved, they're guaranteed for the life of the policy, as long as premiums are paid on time.
Benefits are guaranteed – The TMA Member Guardian Disability plan locks in benefits once coverage is placed, unless you choose riders that allow you to increase benefits.
Policies are portable – If you change jobs or move to another town or state, your individual plan can travel with you.
Cost-of-living increases – TMA Insurance Trust recommends a Cost of Living Adjustment Rider (COLA) rider especially for young physicians. It helps your benefit keep pace with inflation. An employer policy may not offer this protection.
Option to Increase Benefits as Income Rises – Some disability policies may not allow you to increase your benefits as your salary increases. By adding a Future Increase Option to your policy, you are allowed certain increases to your monthly benefit without any medical underwriting.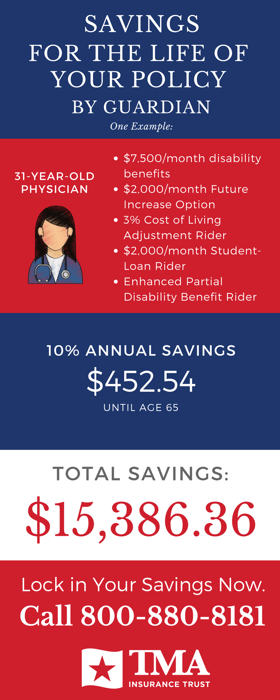 Assessing the Gap in Your Current Plan
Whether you have coverage through your employer or bought an individual policy years ago, your income and family expenses most likely have increased. A TMA Insurance Advisor can help you review your current coverage and make the necessary adjustments to meet to your current income, expenses, loans and debts. Depending upon your needs, you may also want to ask about other top disability insurers available.
TMA Insurance Trust is a full-service insurance agency with over 60 years of experience helping Texas physicians protect their assets, family and practice. Advocating for members, TMA Insurance advisors offer unbiased information and strategies, along with exclusive group rates on a range of the highest-rated plans in the industry. And since advisors don't work on commission, there is never any obligation or sales pressure.