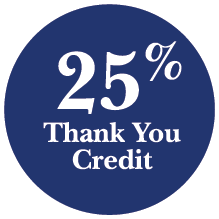 As a physician you're probably well aware of the importance of disability insurance. It is generally considered essential coverage by most industry experts.
But like most physicians, you're also likely to be extremely busy. And disability insurance may not be on the top of your mind – especially if you already have a policy.
But what if you could pay 25% less for a quality disability insurance policy? Would it be worth your time to learn more?
We Get to Say "Thank You" – You Get to Pay 25% Less
Disability insurance is considered important for every physician because it can help replace your income if you are unable to work due to illness or injury. It is a way to help pay your expenses and support your family's quality of life while you recuperate.
At TMA Insurance Trust we want to help you get the income protection you deserve. That's why we are now providing a special savings opportunity – a 25% Thank You Credit for all members who enroll in the TMA Member Long Term Disability Plan issued by The Prudential Insurance Company of America.
The credit is equal to 25% of your insurance premiums. That means premium payments for the TMA Member Long Term Disability Plan will now be 25% lower – which could effectively save you thousands of dollars over the life of the policy.
This is our way of saying "Thank You" for being a TMA member and helping to make it easier for you to secure this important insurance protection.
800-880-8181 7:30 – 5:30 CST Monday – Friday
Apply Quickly for a Quality Plan
The TMA Member Long Term Disability Plan is designed to provide attractive rates for quality disability insurance from a nationally respected carrier. And now with our 25% Thank You Credit it can be even more affordable.
You'll also find the application process for The TMA Member Long Term Disability Plan is very simple and quick. TMA members under age 50 can apply for a benefit of up to $10,000/month with simplified underwriting – and benefits of up to $15,000/month are available with full underwriting.
If you do have long term disability insurance from another carrier, you can get a benefit of up to $4,000/month from the TMA Member plan – regardless of any benefit you receive from another plan.
So if your income and your family have grown since you obtained coverage – and your quality of life has improved – this could be a good time to supplement your current plan for an extra level of financial security and insurance protection.
Highlights of the plan include:
25% Thank You Credit – lowers premium payments by 25%
Application is quick and simple
Cost of Living Adjustment option
Student Loan Reimbursement benefit at no additional cost
Annual opportunity to increase coverage up to age 45
Catastrophic Disability Benefit – receive up to 20% additional benefit for covered catastrophic disability
Now is Your Best Time to Apply
Whether you are thinking about new disability coverage – or wish to add to your current coverage – consider taking advantage of our 25% Thank You Credit for the TMA Member Disability Plan.
As a TMA member, you do not have to do anything to receive your 25% Thank You Credit. Once you are enrolled, the 25% Thank You Credit will be automatically applied to your premium payments and your statement will reflect your reduced premium.*
If you would like to learn more we invite you to speak with one of our advisors. They can provide unbiased information and guidance because they do not work for sales-based commissions. Their only mission is to help you find the coverage that works best for you and your family.
There has never been a better time to help protect yourself and your family with the TMA Member Long Term Disability Plan. So call us today at 1-800-880-8181.
For over 60 years, TMA Insurance Trust advisors have been serving Texas physicians, their families and staff. TMA Insurance Trust prides itself on offering unbiased information and strategies to members, along with exclusive group rates on a range of the highest-rated plans in the industry.