Consider the following scenario that could possibly happen to you:
You've been hurt in an accident and you're told it could be months before you can get back to work. Once the physical and emotional pain has subsided, you begin to think about practical matters – like your finances and how your family will get by without your steady paycheck.
You're not worried because you obtained disability insurance long ago.
Most likely, however, your life has changed since then. Your income as well as your family have probably grown. And it's possible that the coverage you have may not be enough to cover your current living expenses – like your mortgage, your monthly bills, or even your student loan payments. And suddenly you realize that your finances – and the savings you've worked so hard for – could quickly be devastated.
Don't Put Your Finances, Your Family Or Your Future At Risk
If you're like many physicians, you probably have some disability insurance – either from an employer or because you purchased coverage on your own.
But you might be surprised to learn that the coverage you have now may be insufficient to cover your living expenses, or sustain your family's quality of life if you were unable to work because of an injury or illness.
Here are some startling facts you may not be aware of regarding disability insurance:
Caps on employer coverage: Many employer-provided disability plans have a cap on the monthly benefit – typically fixed at $10 - 15,000. Would you need more than that to support the quality of life your family currently enjoys?
Tax liability: If your employer pays for your coverage – or if you write off the premium as a business expense – your benefits would typically be taxed as income, thereby decreasing the actual amount of your benefit*.
Income exclusions: Bonuses, commissions, and other non-salaried sources of income are generally excluded from consideration by traditional disability insurance plans when calculating your benefit.
Coverage for 60% of your salary: Insurance experts recommend that your benefit cover 60% - 65% of your salary. Employer-provided plans with their caps and limits – and tax liabilities – can leave you with less than you need to cover your expenses and support your family's quality of life.
800-880-8181 7:30 – 5:30 CST Monday – Friday
Find Your Plan, Close The Gap
If you're not sure whether or not you have the right amount of coverage for your needs – or if you have no coverage at all – we recommend that you speak with one of our experienced advisors. They're here to help you get the coverage you need and to help provide cost savings in the process.
They can help you assess the gaps in your coverage and show you ways you might be able to close them. They can provide quotes from leading carriers and from exclusive TMA member plans.
They do not work for sales-based commissions so the guidance you receive is always unbiased. Their goal is to help you find the best plan for your needs – without any sales pressure or obligation.
Compare Options, Save Up To 20%
Whether you already have a disability insurance policy or wish to obtain one for the first time we can provide options for individual plans as well as group plans from leading carriers in Texas. We also have exclusive options available only to TMA members with money- saving discounts of up to 20%.
Here are some examples of plans that could work for you: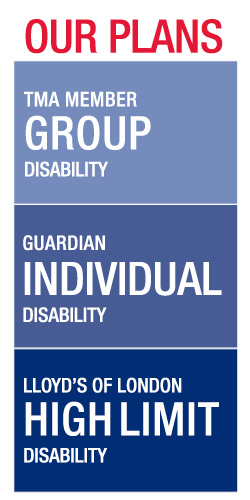 **TMA Member Long Term Disability Plan – Issued By The Prudential Insurance Company of America
Designed to be simple and affordable, this could be an ideal plan for cost-conscious physicians or those just starting their career. It could work well as a primary plan or as a supplement to your current coverage.
Affordability and simplicity – good for physicians just starting their career
Up to $10,000/month benefit with simplified underwriting for members under age 55 – up to $15,000 available with additional underwriting
No need to qualify for coverage based on income when applying for up to $4,000/month benefit or take into account any other coverage you may have
Own occupation benefits paid for first 84 months – benefits can continue beyond this period
Cost of living adjustment and catastrophic disability benefit provisions available
Student Loan Reimbursement Benefit can pay an additional 25% of your monthly benefit for members under age 40
Rates based on age not gender
Online application available – enroll at memberenroll.tmait.org
Guardian Individual Plan – With Up To 20% Lifetime Discount
TMA Insurance Trust has negotiated an exclusive 10% TMA member discount for all members on Guardian disability plans. Additional discounts can increase your total savings up to 20%. Unlike some discount offers, this is not limited to a discount on the first year's premiums. This is a permanent discount for the life of your policy.
Permanent 10% exclusive discount for TMA members for the life of your policy
True Own Occupation definition of disability with enhanced medical specialty language
150% first-year benefit for a serious illness
Non-cancellable – premiums cannot change
Guaranteed renewable – once coverage is placed, benefits cannot be modified
Future Increase Option—up to $17,000/month in total disability benefit
Student Loan Rider—up to $2,000/month in protection against student loans
Cost of Living Adjustment Rider
Retirement Protection Rider – up to $4,420/month in retirement contribution protection
Lloyd's of London High Limit Plan – With Up To 20% Lifetime Discount
This high-limit disability insurance policy from Lloyd's of London can help you fill the gap left by traditional disability insurance policies. It allows you to choose a benefit of up to $100,000/month. And TMA members can take advantage of an exclusive 20% member discount.
Designed for physicians with significant incomes to protect
Exclusive 20% discount for TMA members
Monthly benefit of up to $100,000
Own Occupation coverage
Simplified underwriting – no medical exam or lab work
Fixed, level premiums
Choice of payment options – lump sum payment, level payments or both
Extended ages – TMA members up to age 70 can apply
Call Us To Compare Plans, Benefits And Rates
If you now see gaps or feel you have financial vulnerabilities in your disability insurance coverage, this is the time to speak with one of our advisors. Whether or not you are a TMA member, they can assist you by comparing plans for ease of application, benefits and price. Their unbiased guidance can help you determine which plan might be right for you – so you can feel confident you have made the best choice to protect your finances and your family.
Call us today at 1-800-880-8181.
For over 60 years, TMA Insurance Trust advisors have been serving Texas physicians, their families and staff. TMA Insurance Trust prides itself on offering unbiased information and strategies to members, along with exclusive group rates on a range of the highest-rated plans in the industry.