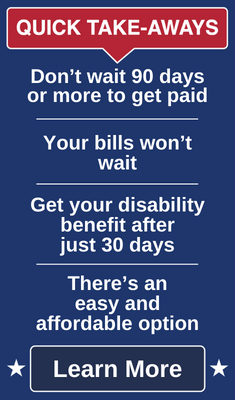 They're two of our most precious assets – our health and our income.
In many ways they're inter-connected. If we're not healthy it can have a big impact on our income. If we're sick or injured and can't work for a long period of time that could result in serious financial loss.
Working with physicians for over 65 years, we've seen this happen firsthand.
Yes, Physicians Need Income Protection
We see the long, hard hours physicians put in – and how you run your body through arduous physical paces day in and day out.
We've seen back and neck pain as a common problem for physicians on their feet for hours on end. And how conditions like arthritis can advance to where a physician can no longer perform all the duties of the specialty for which they've been trained.
And then of course there are unforeseen medical conditions. Physicians, like everyone else, are vulnerable to cancer, heart attack and stroke. And while we can't always control what happens to our health, we can take steps to help protect our income.
Get Paid Faster – Pay Your Bills On Time
Step one in helping to protect our income is disability insurance. It can provide income when you really need it – when illness or injury keeps you from working. But there's a provision in most disability plans you may not know about.
Most insurance agents advise their clients to obtain disability coverage from a nationally recognized insurance company that offers a quality policy. However, many of these policies require that you wait at least 90 days before you receive your first benefit payment. Some policies even have waiting periods of 180-days – that's six months before you could see a benefit.
For many families, waiting three months to receive their first benefit payment can be a financial burden. You could have three mortgage payments during that time, not to mention all the other bills that are due each month. So what can you do to shorten the wait?
800-880-8181
8:00 – 5:00 CST Monday – Friday
Choose A Shorter Waiting Period
While most policies offer a standard 90-day waiting period, the TMA Member Long Term Disability Plan issued by The Prudential Insurance Company of America has an alternative option. It lets you choose a waiting period of just 30 days.
That's two months faster than any coverage with a 90-day waiting period and five months faster if your coverage has a 180-day waiting period.
See How Affordable Coverage Can Be
The TMA member plan offers "own occupation" coverage with valuable features and options, along with a streamlined application process that is much less time-consuming than for an individual policy.
And because it features group rates that have been negotiated by TMA Insurance Trust on behalf of members, it can be an affordable option for you. Plus, TMA Insurance Trust will pay 25% of your premiums as our way of saying "Thank You" for being a member.* To see what your rates would be with our 25% Thank You Credit click the button below.
Keep Your Old Plan – Supplement Your Benefits
If you already have a disability plan, you don't have to drop it. Instead, you can supplement your existing coverage with The TMA Member Long Term Disability Plan. That way, you can receive a benefit sooner to help pay your bills and keep your household running.
Please note, if you secured your policy some time ago it's likely that your income has grown. So it may be time to review your coverage to determine if your disability benefit would be enough to meet your family's living expenses today. Our advisors can help with that.
Get Unbiased Advice At No Cost
Our advisors can review your coverage to help structure an income protection strategy for your needs and budget. Remember, they don't work for sales-based commissions so their advice will always be unbiased and provided at no cost.
To speak with an advisor call us at 800-880-8181 Monday through Friday 8:00 to 5:00 CST. Or to apply online now, click the button below.
For over 60 years, TMA Insurance Trust advisors have been serving Texas physicians, their families and staff. TMA Insurance Trust prides itself on offering unbiased information and strategies to members, along with exclusive group rates on a range of the highest-rated plans in the industry.