As a resident, you may believe that you don't need to think about long-term disability insurance, since it is part of your employer-provided benefits package. It is reasonable to feel confident in the benefits provided by your employer. But to be sure that your disability insurance will help protect your finances properly in the event of a serious accident or illness, you should look closely at your insurance protection to make sure it fits your situation; and as a resident, you may have specific needs that your employer-provided coverage simply cannot meet.
Your Income May be Vulnerable: 3 Reasons Why
During our consultations, it surprises many physicians when they learn that employer-provided disability insurance benefits are usually taxed as income. This leaves some families with even less income than was planned – at a time that is most critical. (Always consult your tax professional.)
Some employer-provided disability insurance is seldom portable, and when it is, it typically converts to an individual plan with reduced benefits. At the end of your residency, if you leave your current employer, you may need to obtain your own policy. If you leave your employer when you are older and have health issues, you may be turned down for disability coverage.
No one knows better than you the sacrifices you have made to be where you are. Add to that the financial debt you have likely incurred with student loans. A serious illness or accident that keeps you from working could derail your financial security very quickly. The additional benefits outlined below that include a Student Loan Reimbursement provision add an extra layer of protection and can assist you during a very difficult time.
800-880-8181 7:30 – 5:30 CST Monday – Friday
Insurance Protection You Can Count On
If you find that you have a financial vulnerability, TMA Insurance Trust is pleased to offer you solutions. We can offer you a custom supplemental policy which fills the coverage gap that employer-provided benefits may leave. There are two plans that we often recommend to medical residents starting out in their careers.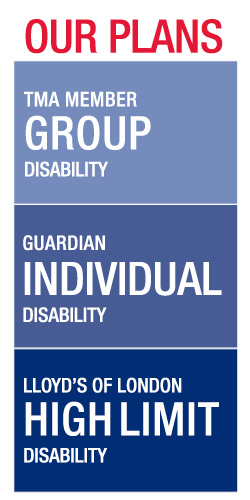 TMA Member Long Term Disability Insurance Plan
For TMA Member residents, this plan, issued by The Prudential Insurance Company of America is affordable and simple to obtain. You will not need to qualify for coverage based on your income when you apply for up to a $4,000/per month benefit. It is an ideal plan to choose as a supplement to any current plan you have. And when you leave residency, this plan goes with you. If you are under age 55, you can apply for up to a $10,000/month benefit with simplified underwriting.
Guardian Disability Insurance Plan
Another option for purchasing disability insurance in the early stages of your career is from Guardian through TMA Insurance Trust. You can lock in a more affordable rate while you are young and healthy; and you can take advantage of multiple discounts - a potential savings of up to 20%. This includes an exclusive 10% TMA member discount. Additional discounts up to 10% are available depending upon the type of medicine you practice. Unlike some offers that are limited to the first year's premium, this savings is a permanent discount for the life of your policy.
Coverage that Keeps Up With Changes
These plans offer benefits that offer value as your career develops. Both TMA member plans mentioned above offer the following benefits:
Student Loan Reimbursement benefit – this benefit can help you make your student loan payments if you become sick or injured and can't work.
Cost of Living Adjustment provision – over time, inflation may decrease the value of your benefits. This benefit helps protect you from that effect.
Future Increase Option provision – your salary will certainly increase over time; shouldn't your disability benefit adjust as well?
To find out more about these plans, contact TMA Insurance Trust for more information; our advisors will provide quotes for these exclusive member options and from other leading carriers. We can help you compare benefits, features and price to find the best plan for your needs. Best of all, our advisors don't receive sales-based commissions, so there is never any sales pressure; we simply want what is best for you. Contact an advisor for a no-cost, no-obligation consultation today.
For over 60 years, TMA Insurance Trust advisors have been serving Texas physicians, their families and staff. TMA Insurance Trust prides itself on offering unbiased information and strategies to members, along with exclusive group rates on a range of the highest-rated plans in the industry.