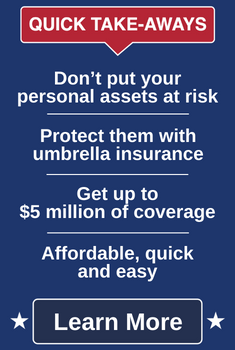 Physicians, like everyone else, are not immune to accidents – whether they occur around the house or in a vehicle. Unfortunately, if you're found to be at fault in an accident, you could find your personal assets at risk.
This can happen because your home or auto insurance may have coverage limits you're not aware of or forgot about. It could also happen if the injured party attempts to take advantage of your financial situation. As a physician you're likely to be in a higher income bracket compared with the rest of the population – so you could be highly vulnerable to a lawsuit.
Either way, this is why many physicians help protect their personal assets with an umbrella insurance plan.
What is Umbrella Insurance?
The main purpose of a personal umbrella liability policy is to help protect your personal assets from an unforeseen event, like a tragic accident in which you are held responsible for damages or bodily injuries.
It's important to understand the implications of such an event because while you may have thought you were fully protected by your home or auto insurance, you might be surprised to learn otherwise. Let's look at what could happen in two types of accidents: auto and home.
877-755-9576
Add a Safety Net For Your Auto Insurance
If you are at fault in a car accident that injures another driver, your regular automobile insurance may cover the other driver up to the liability limit you selected – let's say $250,000.
But what happens if your coverage is not enough to cover the other driver's medical bills?
A 2021 study of personal injury settlements showed that for back and neck injuries, the average payment in Texas was over $500,000.* If the other driver's injuries are severe, you could be held legally responsible for damages beyond the $250,000 your auto insurance policy covers.
Although Texas law imposes restrictions on punitive damages in auto accidents, those restrictions do not apply to medical expenses, lost wages, or pain and suffering. So even if you have auto liability insurance with generous coverage, it may not be enough to protect your personal assets from exposure to legal claims.
If an injured party attempts to exploit your financial situation in a lawsuit there could be added risk to your assets. A personal umbrella policy can help cover the additional costs when your standard auto insurance policy doesn't provide enough protection.
Now let's take a look at your risk at home.
Extend Your Protection At Home
You may carry homeowners insurance to protect your property in the event of fire, theft, or other loss. But if a visitor or worker is injured on your property, your homeowners insurance may still leave your assets vulnerable to a lawsuit – especially if the injured party sees a financial opportunity.
The typical homeowners policy only provides $100,000 of liability protection. If you carry a personal umbrella policy, your coverage is extended, and your assets are further protected. That can mean greater protection for your children's college fund, your retirement savings, even your home itself.
Get a Lot of Coverage With a Low-Cost Plan
In most cases, personal umbrella policies are available in million-dollar increments, up to $5 million. For the extra protection the policies provide, they're very affordable. For example, for around $250 a year you can get $1 million of coverage.
TMA Insurance Trust works with MyLifeProtected to offer umbrella policies from leading insurance companies including Travelers and Chubb. In just a few minutes you can go online at MyLifeProtected and see what a policy will cost – or you can contact an agent who can provide you with a quote for a personal umbrella policy.
In both cases, TMA Insurance Trust has made it quick and easy to get the coverage you need to protect what you've worked so hard to achieve. Give yourself and your family an extra measure of protection at home or on the road. Go online now or call 877-755-9576.
For over 60 years, TMA Insurance Trust advisors have been serving Texas physicians, their families and staff. TMA Insurance Trust prides itself on offering unbiased information and strategies to members, along with exclusive group rates on a range of the highest-rated plans in the industry.
* Average Neck And Back Injury Settlements By State [2021] (mileylegal.com)