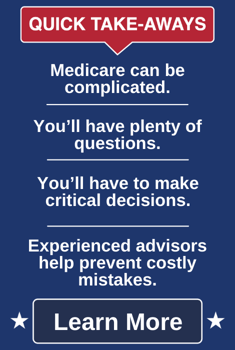 In life as we get older we gain knowledge and acquire more experience. As physicians, that can yield professional wisdom and provide greater confidence in how you proceed with your patients.
But sometimes as we approach a new threshold in our lives we need to learn about something that lies outside of our previous experience or expertise. That can happen as we get close to age 65 and begin to explore our options for Medicare.
You'll Have Many Questions
At around age 65, most people become eligible to enroll in Medicare. At that time you'll likely be barraged by a wealth of new information.
You'll have to consider different kinds of Medicare plans, multiple insurance carriers, diverse fee structures, and varying time periods in which you must enroll. You'll probably find yourself asking questions like:
I'm turning 65 and still working, do I need to enroll in Original Medicare?
Are there penalties if I don't sign up for Medicare at the right time?
Do I need to enroll in both Medicare Part A and Part B at the same time?
I have dependents on my health insurance at work. If I enroll in Medicare, can I keep my employer's group health insurance?
I plan on signing up for Medicare. What is Medicare Supplement, and do I need it?
I take prescriptions every day. Are they covered by Medicare?
Do I need to replace my dental insurance and other coverage if I enroll in Medicare?
Get Simple Answers For Important Decisions
It's true you could do your own research to get the answers to these and many other questions that will surely arise. But that can be time consuming and at the end of the day may leave you with even more questions.
Medicare can be complicated and may seem confusing. It helps if you have a partner with deep experience navigating the Medicare landscape – someone who can help simplify the process and provide clear explanations to help you make your best choices.
800-880-8181
8:00 – 5:00 CST Monday – Friday
Experienced Advisors Can Make It Easier
You've seen how your training and experience have brought you greater confidence when treating patients. The same is true for TMA Insurance Trust advisors.
They are licensed insurance professionals with years of experience when it comes to helping Texas physicians find their best options for health insurance. They have extensive knowledge of Medicare and the sea of regulations that often shift and change over time.
Get Free Advice And Valuable Support
Also, our advisors do not work for sales-based commissions – they work only for your best interests. The guidance they provide costs you nothing. And you will never feel pressure or obligated in any way.
If you're turning 65 soon, it's important to make the right decisions at the right time to avoid costly mistakes which cannot be reversed later. Get the support you need to make your best Medicare choices.
Call our advisors at 800-880-8181 8:00 to 5:00 Monday through Friday CST.
For over 60 years, TMA Insurance Trust advisors have been serving Texas physicians, their families and staff. TMA Insurance Trust prides itself on offering unbiased information and strategies to members, along with exclusive group rates on a range of the highest-rated plans in the industry.