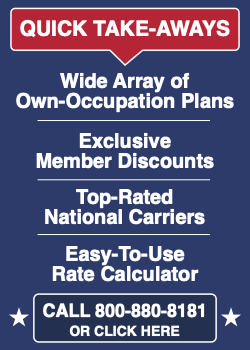 You can't predict the future, but you can help protect it – at least when it comes to your finances. That's the thinking that underlies disability insurance.
Nobody knows if, or when, they might have an injury or illness that could prevent them from working – particularly at this time when we're seeing a dramatic upsurge in new cases of Covid-19. Without work, for most physicians, that would mean their income would diminish significantly or stop altogether.
Disability insurance is there to provide income at those times and is therefore considered an essential safety net to help protect our finances. That said, we find that many physicians – even those who currently have some disability insurance – may not have enough coverage, leaving their financial future vulnerable.
See Your Unprotected Future Income
You may have heard that only 60%-65% of your salary would be needed to live on if you were unable to work. That's the number often quoted by insurance brokers. They estimate that your expenses will be lower while you're recovering. We see it differently.
We take into account your whole career and calculate how much of your future income could be unprotected if you were unable to work until retirement.
To help you see how much of your own income may be unprotected, we've created the Unprotected Income Calculator. Enter a few quick details anonymously and you can quickly see how much of your future income may be unprotected until retirement. Armed with that information you'll be in a better position to know your disability insurance needs.
Save on These Own-Occupation Options
We understand that for many physicians the cost of coverage can be a primary consideration. So we've put together an array of disability insurance product options with exclusive member rates. These are available at a lower cost than you would most likely find elsewhere. Here are three own-occupation plans available from leading national carriers:
Our TMA Member Long Term Disability Plan, issued by The Prudential Insurance Company of America, comes with a 25% Thank You Credit* that can effectively save members thousands of dollars over the life of the policy. It can be an affordable way to supplement your existing coverage and comes with a simple, time-saving application process. And because we offer the same group rates for men and women, women physicians may find savings of up to 50% when compared to individual plans.
We also work with Guardian, a leader in individual disability insurance. TMA members can take advantage of exclusive discounts up to 20% – plus a special rider that can continue to fund your retirement savings.
A high-benefit plan is also available through Lloyd's of London that provides a monthly benefit up to $100,000. This plan is not constricted by the limits domestic carriers place on the amount of coverage you can have – and comes with a 20% discount for TMA members.
800-880-8181
8:00 – 5:00 CST Monday – Friday
Quickly See Your Rates With This Tool
Our TMA member group plan is our most cost-effective option. However, your cost will vary depending on the benefits and options you choose. We've developed another easy-to use, online tool that lets you adjust the monthly benefit and waiting period to help you find the rate that works best for you.
Speak With an Advisor For Your Best Options
Whether you're seeking coverage for the first time, or wish to expand your benefits with a supplemental disability plan, a conversation with one of our advisors can be well worth your time.
They have years of experience helping Texas physicians choose the best options at a cost that fits their budget. They don't work for sales-based commissions, so you can be confident there will be no pressure or obligation.
Choosing the right disability coverage can be critical to the finances of every physician. To be sure you're doing the most to protect your financial future, speak with one of our advisors at 800-880-8181, Monday through Friday, 8:00 to 5:00, CST.
For over 60 years, TMA Insurance Trust advisors have been serving Texas physicians, their families and staff. TMA Insurance Trust prides itself on offering unbiased information and strategies to members, along with exclusive group rates on a range of the highest-rated plans in the industry.