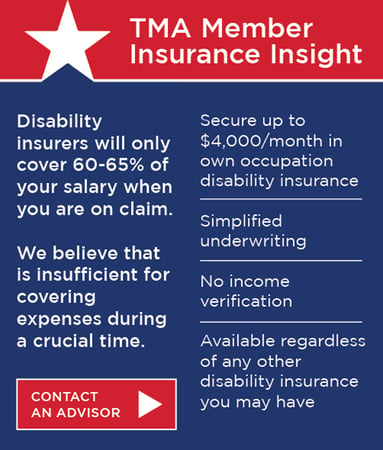 "An ounce of prevention is worth a pound of cure." Benjamin Franklin's wise proverb is one you likely reiterate to your patients in some form. As a physician, you understand that taking preventive measures to protect against illness or disease is far better than spending time and resources addressing a medical issue after it has already occurred.
The same holds true when it comes to your financial security. Don't wait until a disability strikes to discover that your hard-earned income isn't properly protected. Taking action and investing in the protection of your income can help lessen the chance of experiencing severe financial hardship.
How Much Disability Insurance is Enough?
Whether you are just starting your career or have been practicing for years, obtaining sufficient disability insurance is essential to protecting your income. Employed physicians and independents face crippling risks to their financial health if they don't take the time to review their insurance needs and secure enough disability coverage.
Independent physicians are most at risk because:
They need to secure their own disability insurance.
Many have no disability insurance at all, or, they purchased a policy years ago and are now underinsured - especially given the eroding effect of inflation.
Their premiums may be paid as an expense of their practice - instead of paying them out of their personal income - so their benefits may be taxed and reduced.
Employed Physicians have hidden limits on their employer-provided coverage:
Their benefit is limited to 60%-65% of their salary.
Employers impose a cap on the benefit amount they can receive every month – typically $10,000 or $120,000/year. Therefore, if the physician earns over $200,000/year, they will receive no benefit for any salary over $200,000. For example, a physician who earned $250,000 and became disabled would receive $120,000 in total benefits before taxes and have $130,000, or 52% of their total salary not replaced.
Their employer may limit the length of time they can collect benefits.
When the premiums are paid by their employer, benefits are taxed as income, so benefits are reduced even further.
Coverage is not portable, so they will lose their coverage when they leave their place of employment. If their health has diminished, they would have to pay a high premium to replace the coverage or may be denied altogether.
Awareness of these risks can mean the difference between financial security and significant loss to your savings and investments. Now that you know, it's time to be proactive. Plan to ensure that your disability benefits will cover your current monthly expenses.
800-880-8181
8:00 – 5:00 CST Monday – Friday
Significant Discounts, Superior Support
TMA Insurance Trust is a full-service insurance agency established by physicians to help protect all physicians in Texas. We work hard to find ways to make vital disability insurance more accessible so you can secure the coverage you need and prefer.
We work with the leading disability insurers and can help physicians secure significant discounts of up to 30% for the duration of the policy, and savings with a 25% statement credit, both of which can save physicians thousands of dollars over the life of their coverage. As an example of our support, members can apply for up to $4,000 of TMA Member Long Term Disability coverage, regardless of any other disability coverage they have, and with no income verification. This insurance is issued by The Prudential Insurance Company of America.
Our licensed advisors have decades of experience regarding the best way to help reduce the risk to a physician's income. They do not work for sales-based commissions, their goal is to help you protect as much of your income as possible. Their recommendations will be based purely on your needs and which policy will best serve those. There's no obligation or pressure to buy, and their advice and assistance are available at no cost to you.
Get your "ounce of prevention" by discussing the current state of your disability coverage with an advisor as soon as possible. Call 800-880-8181, Monday through Friday between 8:00 am and 5:00 pm, CST.
For over 60 years, TMA Insurance Trust advisors have been serving Texas physicians, their families and staff. TMA Insurance Trust prides itself on offering unbiased information and strategies to members, along with exclusive group rates on a range of the highest-rated plans in the industry.