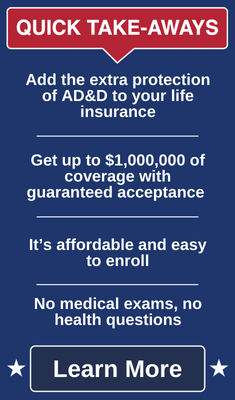 Many, if not most physicians, have a life insurance policy. It could be an individual plan you purchased years ago. Or it might be coverage provided by your employer. Either way, it's very common that "once we get it, we tend to forget it."
But as time passes our family and financial obligations typically grow. And if we haven't added more coverage as our career and our lives evolve, we may not be providing our family with enough financial protection should something happen to us.
Easily Add The Extra Protection Of AD&D Insurance
Unfortunately, by the time most physicians realize this, it may not be so easy to add more coverage. Busy physicians might not want to deal with the hassles of health questions, physical exams, blood work, etc.
It's also possible your state of health has declined or you've developed a medical condition since you acquired your original plan. That can affect whether or not you'd even be eligible to get more coverage.
So how can you close the coverage gap to help your family get the financial protection you want them to have? One simple, affordable option is TMA Member Accidental Death and Dismemberment (AD&D) Insurance issued by The Prudential Insurance Company of America.
Get Up To $1,000,000 Of Coverage – Acceptance Guaranteed
Serious accidents can happen anytime and without warning – driving to work, doing chores around the house, travelling for vacation or to a conference. AD&D insurance pays a benefit to you or your beneficiaries in the event you suffer severe injuries or a fatality as the result of an accident.
This can help financially provide for your loved ones – in addition to your life insurance benefit – if you are no longer there to do so yourself. It comes with guaranteed acceptance – so your current state of health is not an issue. If you're a TMA member under 65 years of age you cannot be turned down for this insurance coverage. There are:
No medical exams
No health questions
No risks – because you have a 30-day free look period
800-880-8181
8:00 – 5:00 CST Monday – Friday
Enroll Your Family As Well
You can obtain coverage in increments of $50,000, so the coverage and cost can be tailored to your needs and budget. You can also enroll your dependent spouse or domestic partner (under age 65) and dependent child(ren) under 26 years of age.
It's easy to add The TMA Member AD&D Plan to your personal insurance protection portfolio. You can enroll quickly and easily online. To get started now just click the button below.
Of course, if you have questions, feel free to speak with one of our advisors at 800-880-8181, from Monday through Friday 8:00 to 5:00 CST.
For over 60 years, TMA Insurance Trust advisors have been serving Texas physicians, their families and staff. TMA Insurance Trust prides itself on offering unbiased information and strategies to members, along with exclusive group rates on a range of the highest-rated plans in the industry.