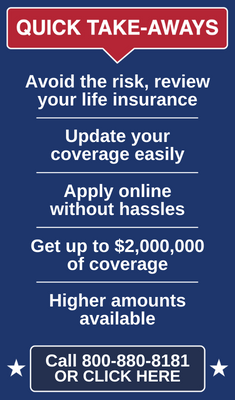 "Don't put off until tomorrow what you can do today."
It rang true when Ben Franklin said it over two centuries ago. And it may, in fact, be good advice when it comes to reviewing your current life insurance coverage.
Don't Take The Risk – Review Your Plan
Life insurance tends to be the type of insurance we forget about once we get it. But because it can be critical to the financial well-being of your family, it does bear reviewing periodically.
Maybe you got your first policy when you were young and had a lower income and fewer responsibilities. As time passes families grow, incomes increase, lifestyles change – so it's important to have coverage that reflects your family's current and possible future living expenses.
If your policy is not up to date, you may not be providing the financial security you intended for your family when you first obtained your policy. And if you don't yet have life insurance, this is not the time to procrastinate, especially with the health risks we're living with today.
800-880-8181
8:00 – 5:00 CST Monday – Friday
Apply For Life Insurance Without The Hassle
At TMA Insurance Trust we understand how busy physicians are, maybe even more so now with COVID-related staffing shortages. So we've made it easier than ever to get coverage. In just a few short minutes TMA members can apply online for the TMA Member Term Life Insurance Plan issued by The Prudential Insurance Company of America.
Apply at your convenience – no appointment needed, no worries about coordinating meetings with an agent. Members under 45 can apply for up to $750,000 no questions asked and get an instant decision. Members under age 60 can apply for up to $2,000,000 with simplified underwriting. Simply click on the button below and get a quote for the amount of coverage that works best for you.
Please note: the online option is only available to TMA members. To obtain higher amounts of coverage please speak with one of our advisors. They can be reached at 800-880-8181 Monday through Friday 8:00 to 5:00, CST.
Need More Help?
As a physician your overall financial situation may be more complex than average – more so if you own a practice, have partners, multiple income streams and other financial responsibilities. So you might want help choosing the amount of coverage that works best for you.
Our advisors will be happy to review your current coverage to see if it aligns with your financial needs. They'll take into account your individual circumstances, avoiding "cookie cutter" formulas which may not be right for you.
If you obtained a policy previously at an advantageous rate we will not hesitate to advise you to keep that plan. If needed, we may suggest a supplementary plan to increase your coverage.
Update Now With a Call Or Click
TMA Insurance Trust is a full-service insurance agency, with over six decades of experience working for the benefit of Texas physicians. You might find it reassuring to know that our advisors do not work for sales-based commissions – so your interests will always be our first priority.
Don't put off giving your family the financial protection that only life insurance can provide. Call our advisors at 800-880-8181 Monday through Friday 8:00 to 5:00, CST. Or to get started right now, just click the button above.
For over 60 years, TMA Insurance Trust advisors have been serving Texas physicians, their families and staff. TMA Insurance Trust prides itself on offering unbiased information and strategies to members, along with exclusive group rates on a range of the highest-rated plans in the industry.