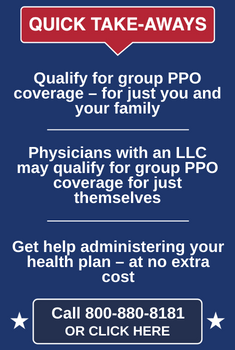 Owning a medical practice comes with many rewards. But in today's world it can also bring daunting new challenges.
The financial impact of Covid-19 has affected large and small medical practices throughout Texas. As a result, practice owners may be taking a closer look at their office expenses, exploring new ways to better manage their practice and operate more efficiently.
Uncover Cost Savings and Efficiencies
One of the most significant expenses for a practice, regardless of size, is the cost of health insurance. At TMA Insurance Trust we're committed to helping practice owners find the best health insurance that works with their budget, as well as providing service that helps them more efficiently manage their group health plan.
800-880-8181
8:00 – 5:00 CST Monday – Friday
Get Group PPO Coverage – For Just You and Your Family
Our advisors have years of experience in this marketplace and are highly skilled at uncovering special health insurance options that some practice owners may not know about. This includes ways to help practice owners qualify for group PPO health coverage – even if it's just for themselves and their family.
PPO coverage is desirable because it offers more freedom of choice with providers, hospitals and networks compared to HMO plans with more limited options. Some practice owners may be surprised to learn about these special options – because individual PPO plans are no longer offered in Texas. But did you know:
Physicians who have or establish an LLC may be eligible for PPO health insurance, without the need to cover their staff. Partnership documentation and the company's Schedule K-1 (Form 1065) are required.
Practice owners can upgrade their personal coverage to a PPO plan while offering their employees another plan.
Practice owners with staff on their own health coverage (a spouse's plan or another provider) can get "Group of One" PPO coverage just for themselves and their family – and it may cost less than an individual HMO plan.
Our advisors will be happy to review these options with you, as well as your current policy, to see if it makes sense for you and your family to upgrade to a more comprehensive PPO plan.
Save Time, Lose Administrative Hassles
As a practice owner, you know that administering your group health plan can take precious time away from attending to other critical issues of the day. But our advisors can help with many time-consuming tasks that come with the administration of a group health plan.
Did you know we can help:
Enroll your staff and dependents
Cancel employees if they leave your office
Distribute temporary ID cards and policy information
Assist with billing
Advocate on your behalf with insurance carriers for claims or customer service issues
See The Difference In Our Service
These services are available to you as a TMA member at no additional cost. It's like getting an administrative partner on your staff – without having to pay extra for it. This is an important difference between our advisors and other brokers or agents.
And as you may know, our advisors do not work for sales-based commissions – so you can be sure your interests will always come first with us.
Get Help If You're Just Starting Out
Whether you're a large or small practice, our advisors can help you take advantage of the health insurance options you're entitled to as a practice owner and TMA member.
This is also true for any physicians who may be planning to open their own practice in the future as well. Get health insurance that works best for you and your practice. Speak with one of our advisors at 800-880-8181 Monday to Friday 8:00 to 5:00 CST.
For over 60 years, TMA Insurance Trust advisors have been serving Texas physicians, their families and staff. TMA Insurance Trust prides itself on offering unbiased information and strategies to members, along with exclusive group rates on a range of the highest-rated plans in the industry.