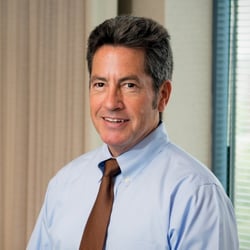 Wendell England is the Director of Member Benefits for TMA Insurance Trust. He is responsible for reaching out to Texas physicians and medical students about the excellent services TMA Insurance Trust offers, both person-to-person and at larger events. Recently, we asked him a few questions about TMA Insurance Trust, and were happy to hear his unique perspective.
You've lived in Texas for many years. What do you like best about living in this state?
I love how friendly the people are here. The music is great – I love country and western music and think the Broken Spoke is the best place in Austin for 2-stepping. I also love the beaches; South Padre Island is a great place to surf. I also love how huge football is in Texas, whether it's high school, college, or NFL.
In your opinion, what is exceptional about the physicians you work with here in Texas?
The physicians here are passionate about advocacy alongside the Texas Medical Association. They want to care for their patients the best way they can, and with minimal interference from unnecessary government regulations. They're great to work with, and many physicians stay with TMA Insurance Trust from medical school through retirement.
You've been with TMA Insurance Trust for just a few years, and we know you have an extensive background in marketing. Before you accepted a position with TMA Insurance Trust, what appealed to you about working for the organization?
I love to help people. I wanted the opportunity to educate medical students and residents about the importance of protecting their income with our disability and life insurance products.
You interact a great deal with residents. Why do you think it's so important for them to take care of their insurance needs early?
The products that protect their income are based on age and health; the younger they are when they purchase them, the less expensive they are, so they can afford more coverage. Because of this, they can better protect their income from an early age.
You've no doubt heard many experiences of clients who have obtained insurance then unexpectedly needed it. What experience stands out most to you?
A friend of mine was married to a physician. They had three children together, and he suddenly died. She and her children were left with only $100,000 coverage from a whole life policy. If the insurance salesperson had sold her husband a term life policy, the death benefit would have been in the millions. This is a perfect (and sad) example of how an insurance salesperson did not have the customer's best interest in mind. The truth is, a commission is greater on a whole life policy vs. a term policy. That's why I can say with confidence that at TMA Insurance Trust, we offer our members the best solution for their family and loved ones, since we are paid a salary and not commission. We always want what is best for the physician.
800-880-8181
7:30 – 5:30 CST Monday – Friday
What is the biggest challenge facing Texas physicians with regard to insurance, and how is TMA Insurance Trust able to handle this?
The rising cost of major medical health insurance is a big concern. We are able to prepare quotes on individual marketplace plans for our members. If the physician qualifies for a group insurance plan, the rates are more affordable than individual plans. We work with them to see if they can qualify: all they need is one owner (the physician) a tax ID number and one full-time employee on payroll.
Suppose you meet with a physician who has their own insurance through another carrier. Why do you think they would be better to work with TMA Insurance Trust?
Our inside sales staff has over 100 years of combined experience. We service accounts after the purchase, and can answer most questions immediately. We are even able to get involved with claims when our members need it. In some cases, we are able to offer association discounts through their Texas Medical Association membership. The bottom line: we're the only insurance organization exclusively endorsed and created by the Texas Medical Association, over 60 years ago.
What do you think is the most overlooked type of insurance that physicians don't obtain? What is a good reason they should have this coverage?
Without a doubt, I would say long term disability and life insurance. Most physicians have this coverage, but many are underinsured. This coverage protects both their current and future income, but also their families and loved ones. Disability insurance is complex; having an advisor work with the member is critical to ensuring that they have the right coverage for their situation.
Because you travel a bit for work, we'd love to hear your recommendation, and there's undoubtedly stiff competition. What's the best barbeque in Texas?
My favorite so far is Smitty's Market in Lockhart. The brisket and pork chops are amazing. If I am traveling by air, Dickey's at Dallas Love Field has excellent barbeque.
What is the best thing about working for TMA Insurance Trust?
The people that work here are great; they are just as passionate as I am about helping members. I like the simple organizational structure and the quick decisions from management on account support requests. There is good participation from the staff for events. I really enjoy traveling the state for events and appointments.
Is there anything new at TMA Insurance Trust that you're excited about for your members?
A new program for members that we are looking forward to is the introduction of our auto and homeowners program starting in September. Members can find out if they can save money compared to their existing policies by using the online quote tool.
For over 60 years, TMA Insurance Trust advisors have been serving Texas physicians, their families and staff. TMA Insurance Trust prides itself on offering unbiased information and strategies to members, along with exclusive group rates on a range of the highest-rated plans in the industry.