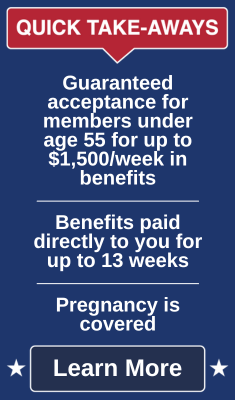 As young physicians embark on their medical careers, it is essential to prioritize their financial well-being and future security. Short term disability insurance is a crucial safety net that can help provide financial support during periods of medical leave when you are unable to earn your regular salary.
We are proud to introduce the TMA Member Short Term Disability Plan, issued by The Prudential Insurance Company of America, as an affordable, guaranteed way for residents and young physicians to access vital income insurance protection.
A Guarantee When You Need It Most
If you lost your income due to a necessary medical leave, would you be able to cover your living expenses, plus additional medical bills? For most young physicians and residents, the answer is no. Short term disability insurance is commonly provided as an elective employment benefit, available on a group basis. However, some young physicians may work as independent contractors or in private practice, where employer benefits might not be available. Many have not worked long enough to build up emergency funds or accrue sufficient sick days to help them weather the financial strain of an illness or injury that keeps them from practicing.
800-880-8181
8:00 – 5:00 CST Monday – Friday
Here's how our new plan upgrades your income protection:
Members under age 55 have guaranteed acceptance for a cash benefit of up to $1,500/week
Up to $2,500/week in benefits available with underwriting
Affordable premium rates
Benefits paid for up to 13 weeks
Quick payout - no waiting period for covered accidents and only a 7-day waiting period for covered illnesses
Benefits paid regardless of any other insurance you may have
Benefits paid directly to you
Pregnancy is covered (limited to 2 weeks prepartum and 6 weeks postpartum, 8 weeks for C-section)
The TMA Member Short Term Disability Plan can help ensure you have ongoing cash benefits in hand quickly, keeping your risk of financial vulnerability to a minimum.
Your benefits can help cover medical and non-medical expenses such as student loan payments, rent, and other necessities, easing your financial burden so you can focus on your recovery and healing.
Enrolling Is Easy
Enrolling for our new TMA Member Short Term Disability Plan is almost as easy as benefiting from it. Use our convenient online form below to contact one of our expert advisors, or call 800-880-8181, weekdays from 8:00 to 5:00, CST.
Developing this new income insurance protection plan is another way TMA Insurance Trust is endeavoring to help foster your long and fulfilling career as a physician. Approach your financial future with greater peace of mind and commit to your well-being so you can continue to care for the well-being of those who depend on you.
For over 65 years, TMA Insurance Trust advisors have been serving Texas physicians, their families and staff. TMA Insurance Trust prides itself on offering unbiased information and strategies to members, along with exclusive group rates on a range of the highest-rated plans in the industry.