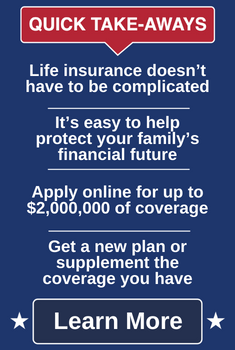 A few weeks ago, we turned the page on another calendar year. For many people, the start of a new year provides an opportunity to take stock of their lives and often involves a review of their finances.
When it comes to our financial health – and the well-being of our family – we believe it's essential to include life insurance as part of that review.
Ask The Right Questions, Get The Right Coverage
Most physicians have some form of life insurance. But to provide your family with the financial security and protection they need, it's important not only to have a plan, but to have the right amount of coverage. To help ensure your family has the financial protection you want for them, ask yourself these questions:
What Would Happen To My Family's Finances If I Were No Longer Here?
It may be hard to think about what life would be like when we're no longer here for our family. But it's important to do just that – otherwise we could leave our loved ones in financial distress if we haven't provided them with adequate protection.
Making a realistic assessment of your family's future financial needs can help you decide how much life insurance coverage is appropriate. If you weren't here to contribute ongoing financial support what would they need to pay the mortgage, the monthly bills and the rest of their living expenses? How would their lifestyle be maintained?
Your family may have other financial resources, but receiving a substantial benefit from a life insurance policy can go a long way toward easing their financial burden at a time when so many issues must be managed.
800-880-8181
8:00 – 5:00 CST Monday – Friday
When Was The Last Time I Reviewed My Coverage?
If you do have a life insurance plan, it's important to have a periodic review of your coverage. You may have purchased life insurance years ago, when you were younger. Many physicians get a plan early in their career, store the documents away, and subsequently forget about them.
If your family has grown since that time, or your income has increased significantly, you'll likely need to provide a larger benefit than what your current coverage provides. You would not want to leave your family in a position where the coverage you purchased long ago does not provide the financial support you originally intended.
How Can I Get More Coverage?
Most physicians are time challenged. TMA Insurance Trust has been working with Texas physicians for over 60 years and we understand this as well as anyone. So we've provided a simple, hassle-free way for our members to get the life insurance they need.
TMA members can easily apply online for our term life plan issued by The Prudential Insurance Company of America. Members under age 45 can apply for up to $750,000 of TMA Member Term Life Insurance – and receive an instant decision. Members under age 60 can also apply for up to $2,000,000 of coverage online with simplified underwriting. To get started now, simply the button below.
Please note: the online option is only available to TMA members.
What If I Don't Have A Plan?
If you don't already have life insurance, we urge you to think about getting a plan today. Life moves quickly and the best time to get started is when you're younger and healthier and the cost of premiums for you is lower.
As mentioned, getting a plan is easy. TMA members can simply click the button above to get the coverage that works best for them.
More Questions? Speak With Our Advisors
It only takes a few moments to help protect your family's future. Whether you're looking to get coverage for the first time or wish to supplement your current plan, click the button above and see how easy it is to get up to $2,000,000 of coverage.
If you wish to obtain higher amounts of coverage, you can speak with one of our advisors. As a full service insurance agency we work with a number of leading life insurance carriers. When you call TMA Insurance Trust during the hours listed below, your call will be answered by a real person to assist you. To get started, click the button above, or call 800-880-8181, Monday through Friday from 8:00 am to 5:00 pm, CST.
For over 60 years, TMA Insurance Trust advisors have been serving Texas physicians, their families and staff. TMA Insurance Trust prides itself on offering unbiased information and strategies to members, along with exclusive group rates on a range of the highest-rated plans in the industry.