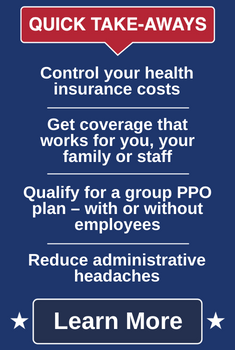 Whether you own a large or small group practice or work independently, in today's economy, most physicians have one goal in common: to find ways to reduce expenses. And typically, one of the most significant expenses for physicians is the cost of health insurance.
TMA Insurance Trust is focused on helping all Texas physicians manage costs and operate more efficiently. So we want you to know about special health insurance options that can help you control costs and get the coverage you really want. This goes for practice owners and independents – for those with, as well as those without, employees.
Practice Owners, Here's How The Special Options Can Help
If you're a practice owner with employees, the special options can help you get the coverage you want for yourself and your family (like a group PPO plan) while offering your employees other, more affordable options. And since health insurance is one of the benefits most employees want from an employer, by offering group coverage you'll be better able to retain valued employees and attract qualified staff. Here's how it works:
For practice owners with group coverage for their practice there are opportunities to help control the cost to your practice and be able to offer your employees group health insurance – with a mix of PPO and HMO plans.
For practice owners with staff on their own health coverage (a spouse's plan or that of another provider) you may be able to get group PPO coverage just for yourself and your family.
800-880-8181
8:00 – 5:00 CST Monday – Friday
Independents, Get a Group Plan At Group Rates
If you're an independent physician the special options can work for you too. They can help you qualify for group health insurance with group rates – even for just yourself and family.
So for example, you could potentially get a group HMO plan that costs you less than an individual HMO plan – and enjoy comparable benefits. Likewise, if you thought you were only eligible for an individual HMO plan, you may now qualify for a group PPO plan – even if you have no employees. Here's what you need to know:
For partners with no W-2 employees, you may be eligible for group coverage only for yourself. You'll need to provide partnership documentation and the company's SS4 or recent K-1 (Form 1065).
For physicians who own a business with their spouse, or their spouse is a W-2 wage employee, you may qualify for group coverage even without partnership documentation.
Lose Administrative Headaches – Gain a Valuable Team Member
Our team of experienced health insurance advisors can help determine your eligibility for the special options. They can also provide a level of service rarely found with other agents or brokers. Managing the administration of a health insurance program for a group practice can be cumbersome and time consuming. Our advisors can remove much of that burden from your staff. Among other tasks, our team can help:
Enroll your staff and dependents
Cancel employees' coverage if they leave your practice
Distribute temporary ID cards and policy information
Assist with billing
Advocate for your staff throughout the year for claims or customer service issues
These added services can provide more freedom for you and your staff to spend more time caring for patients and running your practice. And they're available to you at no extra cost.
Planning To Open Your Own Practice? Let Us Help.
If you're planning to open your own practice, our advisors can help you start your own group plan. As a full-service licensed insurance agency we offer plans from a number of leading national carriers. And our advisors do not receive a sales-based commission, so you can always be sure their recommendations are for your best interests.
Call Now To Speak With An Advisor
Before you renew your current plan, call us to help control health insurance costs and get the coverage that works best for you, your family or your employees. When you call during the hours listed below you'll get a live person on the line to assist you. Call 800-880-8181, Monday through Friday from 8:00 am to 5:00 pm, CST.
For over 60 years, TMA Insurance Trust advisors have been serving Texas physicians, their families and staff. TMA Insurance Trust prides itself on offering unbiased information and strategies to members, along with exclusive group rates on a range of the highest-rated plans in the industry.