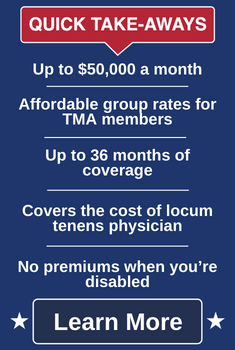 What happens to your practice if you can't work? Disability insurance can help keep your household on track financially if you become too sick or injured to work, but what about your practice? Having an emergency savings fund established is beneficial, but in today's inflationary economy, many practice owners may find that it will no longer keep their practice running for as long as they anticipated.
This is why we developed the TMA Member Business Overhead Expense Insurance Plan issued by The Prudential Insurance Company of America.
Help Protect the Practice You've Built
The care you provide as a physician is vital to your practice. If you cannot serve your patients and generate revenue due to illness or injury, Business Overhead Expense (BOE) insurance will help:
Pay for expenses like rent, utilities, loan payments, office supplies, property taxes, maintenance services
Preserve your personal finances by allowing your personal disability insurance benefits to be used solely for your household and family expenses
If your practice is forced to cease operations until you can recover, and salaries and benefits cannot be paid for, your staff may need to seek employment elsewhere. The temporary closure of your practice could also necessitate your patients seeing competing physicians, which may result in them not returning to your practice when you reopen.
Therefore, TMA Member Business Overhead Expense insurance has the added benefit of allowing you to help:
Pay employee salaries, payroll taxes, the cost of a locum tenens replacement physician and more
Keep your practice operationally and financially viable by retaining patients and employees
Maintain your professional standing and business momentum in your community
Any TMA members who are partners in your practice should also apply for BOE coverage so the practice is more fully protected.
800-880-8181
8:00 – 5:00 CST Monday – Friday
The Advantages of a Better BOE Insurance Plan
Not all BOE insurance plans are created equal. The TMA Member Business Overhead Expense Insurance Plan issued by The Prudential Insurance Company of America provides exclusive benefit advantages developed to help independent practice owners.
With the TMA Member BOE Plan, members receive:
Higher Payouts: Up to $50,000 in monthly benefits to cover the ongoing expenses of your practice
Lower Cost: The TMA Member BOE Plan offers a lower premium compared to many competing carriers, which means greater value and affordability for you
Longer Payouts: Benefits can be paid for up to 36 months (or until the aggregate benefit amount is reached)
Retroactive Payout: You're paid for the waiting period – the TMA Member BOE Plan will make the first payment retroactively after you have been disabled for 30 consecutive days
No Premiums When You're Disabled: Your premiums are waived so there is no cost to you when you are disabled and receiving benefits
The TMA Member BOE Plan is just one more way TMA Insurance Trust helps ensure that Texas practice owners can continue to grow and thrive during these uncertain times.
A Personal Care Team for Your Practice
We have dedicated, experienced advisors ready to assist you in putting your TMA Member BOE Plan in place. Let us help take care of what you've worked so hard to build. Call 800-880-8181, Monday through Friday, 8:00 am to 5:00 pm, CST.
For over 60 years, TMA Insurance Trust advisors have been serving Texas physicians, their families and staff. TMA Insurance Trust prides itself on offering unbiased information and strategies to members, along with exclusive group rates on a range of the highest-rated plans in the industry.