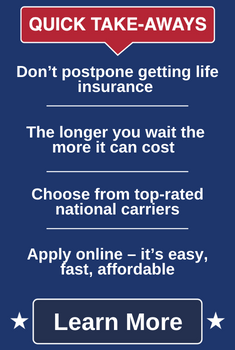 In life, if you wait until you are ready to do something important, it could be too late.
Most people – physicians included – know they should have life insurance. But they often procrastinate when it comes to actually getting a plan. Unfortunately there can be a real price to pay if we wait too long to "take the leap."
Beware The Cost Of Waiting
As medical professionals you understand the "cost of waiting." If we postpone certain procedures or diagnostic tests we could face increased risk to our health. Likewise, in the case of life insurance, the cost of waiting too long can also be high. Here's why:
The longer you wait, the more expensive life insurance can become. Statistically, as we get older, our risk for various health conditions increases. Consequently, premium rates are higher as you get older. When a 35 year-old physician gets a plan the rates are likely to be a lot less than for a 45 year-old.
If you continue to put it off and your health changes dramatically before you apply for coverage, your cost could increase substantially. Or worse yet, you may not be able to get approved for coverage at all.
The ultimate cost of waiting is what happens when you simply never get a policy – potentially leaving behind financial distress for family members when you are no longer here.
800-880-8181
8:00 – 5:00 CST Monday – Friday
Apply Online For A Quality Plan
Given how important life insurance is to the financial security of any family, we want to help all physicians in Texas overcome the hurdles that might be holding them back from getting a good plan.
We know your time is valuable. So if you're a TMA member you can easily apply online for our members-only term life plan issued by The Prudential Insurance Company of America.
TMA members under age 45 can apply for up to $750,000 of coverage – no questions asked and get an instant decision. Or members under age 60 can apply for up to $2,000,000 of coverage with streamlined underwriting – all in the privacy of your home. Just click below to get started.
Please note: the online option is only available to TMA members. To obtain higher amounts of coverage please speak with one of our advisors. They can be reached at 800-880-8181 Monday through Friday 8:00 to 5:00, CST.
Choose More Options From Quality Carriers
We also offer a wealth of options from other nationally known carriers, making it easy to secure a plan that fits your needs and budget. TMA Insurance Trust is a full-service insurance agency and our advisors can help you apply for virtually any amount of coverage.
Coverage For Older Physicians
In addition, if you are an older physician and already have a plan, you may have thought you could not apply for more life insurance. But we can offer physicians in their 70's a ten-year level term policy with some underwriting required. This can be an affordable way to supplement your current coverage and help offset the burden of estate taxes for your family.
Our advisors will be happy to review your options on a no-cost, no obligation consultation. They do not receive any sales-based commissions, so you won't feel any pressure or sense of obligation. Don't wait any longer to get this important insurance protection. Call us at 800-880-8181 Monday through Friday, 8:00 to 5:00 CST.
For over 60 years, TMA Insurance Trust advisors have been serving Texas physicians, their families and staff. TMA Insurance Trust prides itself on offering unbiased information and strategies to members, along with exclusive group rates on a range of the highest-rated plans in the industry.