We don't have to tell you about the importance of good oral health. You know better than most that a healthy mouth can be an important factor in terms of our overall physical health.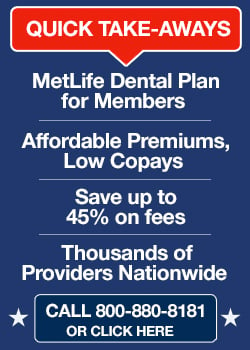 In fact, you've probably seen medical studies that point to a link between infections that begin in the mouth – like tooth decay and gum disease – and a host of conditions elsewhere in the body, including cardiovascular disease, certain forms of cancer and immune system disorders.
Yet what we've found is that while virtually every physician will have some form of health insurance many go without dental coverage.
Your Health Care Plan May Need a Dental Check-Up
You may have recently renewed your health insurance during Open Enrollment and did not opt for dental coverage. Without dental coverage, it may be tempting to put off regular dental check-ups, because of a concern that those visits might result in expensive treatments.
But postponing regular dental visits can increase the risk of worsening conditions in the mouth which could lead to more extensive – and expensive – follow-up visits and treatments.
800-880-8181
8:00 – 5:00 CST Monday – Friday
Affordable Dental Coverage For Members
So to make it easier to keep up a regular schedule of dental visits and maintain optimal oral health, TMA Insurance Trust is working with MetLife – a nationally known carrier – to offer a dental insurance plan exclusively to our members.
This plan can help reduce out of pocket costs and comes with affordable premiums and low copays for a number of important preventive and restorative services. These include cleanings, oral exams, crowns, bridges, and implants.
You'll find negotiated fees typically range from 15-45% below the average fees charged in a dentist's community for the same or substantially similar services. This supplementary insurance can be a natural complement to the health insurance you already have.
Choose From Over 300,000 Providers
Members can choose a dentist from over 300,000 dental locations in the MetLife network – which includes nearly 80% of dental offices nationwide.
If you are not covered by an employer plan or are not happy with your current dental plan, this exclusive member benefit may provide the options you've been looking for.
Don't put off visits to your dentist and risk adverse effects on your oral and overall health. It's easy to get started. Speak to one of our advisors today. They can be reached at 800-880-8181, Monday through Friday, 8:00 to 5:00, CST.
For over 60 years, TMA Insurance Trust advisors have been serving Texas physicians, their families and staff. TMA Insurance Trust prides itself on offering unbiased information and strategies to members, along with exclusive group rates on a range of the highest-rated plans in the industry.