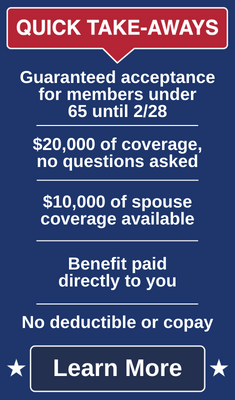 Nothing impacts our lives more than having to change our normal routine to deal with a serious illness. The last few years have taught us that even our well-being is not guaranteed. Thus, with changing times and uncertain health, TMA Insurance Trust is offering two valuable guarantees that you can take to the bank. First, for a limited time, TMA Insurance Trust members under age 65 are guaranteed to be accepted for $20,000 of TMA Member Critical Illness coverage. The second is this - if you become critically ill with a covered illness, $20,000 is paid directly to you - guaranteed. Now, those are guarantees you can bank on.
Safeguarding Your Health and Your Income
Many people opt for health plans that are more affordable. This means higher deductibles, copays, and coinsurance costs. We don't often contemplate how much a serious illness will actually cost, but we should. Consider the following statistics:
According to the Agency for Healthcare Research and Quality, heart attack patients paid $21,500 per hospital stay at an average length of 5.3 days in the hospital. Even with health insurance, Kaiser Health News reported incidents of some patients paying upwards of $100,000 when surgery is involved.1
For patients and their families, the costs associated with direct cancer care are staggering. In 2014 cancer patients paid nearly $4 billion out-of-pocket for cancer treatments.2
The guarantees offered by TMA Insurance Trust will help you to rest assured and focus on your health, not on mounting out-of-pocket expenses. That is why securing your coverage now, before an unforeseen illness occurs, is vital. The TMA Member Critical Illness coverage of $20,000 will be paid directly to you upon the diagnosis of a covered illness like a heart attack, stroke, or cancer. Health insurance covers your basic care, but unfortunately, it doesn't cover everything. TMA Member Critical Illness coverage can help close that gap of what you would be responsible for - including medical out-of-pocket expenses and non-medical expenses. Whether you need to pay for high office copays or specialty drugs or even travel to treatment facilities - you are free to use the money where and how you need it most.
800-880-8181
8:00 – 5:00 CST Monday – Friday
Guaranteed Protection
Guaranteed acceptance ends on February 28th, so apply now for the TMA Member Critical Illness Insurance Plan.
Guaranteed acceptance for members under the age of 65
Guaranteed payment of $20,000 paid directly to you when diagnosed with a covered illness
Find out more. You can activate your coverage online by clicking the button below, contact an advisor by submitting an online form or call one of our experienced advisors at 800-880-8181. They're ready to answer any questions you may have Monday through Friday, 8:00 am to 5:00 pm, CST.
For over 60 years, TMA Insurance Trust advisors have been serving Texas physicians, their families and staff. TMA Insurance Trust prides itself on offering unbiased information and strategies to members, along with exclusive group rates on a range of the highest-rated plans in the industry.