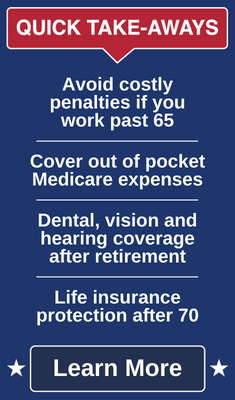 Are you planning on retiring soon? Congratulations! You have worked hard to make it to this exciting era in your life. Many retirees underestimate the cost of future medical expenses so it's important to review your insurance coverage now and make adjustments to ensure there are no gaps.
Before you start relaxing, traveling more, and spoiling your grandchildren, let TMA Insurance Trust help you decide on the right insurance coverage plan that will work for you, long after you retire.
Considerations for Working Past 65
Many physicians choose to keep working past 65 and keep their coverage under their personal or employer's group plan. TMA Insurance Trust can help you become aware of how your insurance needs will change as you approach age 65 or consider retirement. If you are going to continue working past the age of 65, please read our article regarding the intricacies of enrolling for Medicare and how to avoid costly penalties that could last for the rest of your life. That article can be found here.
800-880-8181
8:00 – 5:00 CST Monday – Friday
Healthcare and Prescription Drugs
The government's primary health insurance for most people over 65 is Medicare. However, Medicare only pays about 80% of the cost of care. The remaining 20% is the patient's responsibility.
Most people will secure a Medicare Supplement Insurance Plan (also called Medigap insurance) to care for these out-of-pocket costs. The number of Medicare Supplement plans available and the companies that offer them can be difficult to sort out. The decision for which one suits you best is important because it may lock in your coverage for at least a year.
As a TMA Insurance Trust member, you can try to navigate through the information online or you can take advantage of TMA Insurance Trust's unbiased advisors. Our advisors will help you to wade through your options. Their sole mission is to support Texas physicians with their experience and knowledge.
Medicare Part D, which is known as the prescription drug insurance plan, may provide optimum coverage when partnered with a Medicare plan. Prescription drugs are another key factor to consider because prescription drugs are not covered under Medicare. However, Medicare Part D plans are not standardized. There are several on the market to choose from.
To assist you in figuring out which plans cover your particular prescription drugs and what they will cost, contact us for more information.
Enrollment Windows
There are two separate enrollment periods that you do not want to miss: Medicare's Initial Enrollment Period and the Special Enrollment Period. Your eligibility depends on if you have recently turned 65 or if you have had a life event that now qualifies you. How do you know if you qualify? What are the penalties for not enrolling on time? We can help answer those questions and many more. Take advantage of the support that our experienced TMA Insurance Trust Advisors can bring. At no cost to you, we will assist you in not only choosing the right package but also in working through deadlines and penalties.
Dental, Vision and Hearing Coverage
Many employers provide dental, vision, hearing, and other supplemental insurance coverage as part of their benefits package. When you retire, you will most likely lose those benefits. If you have never had these benefits or need to replace them, we can help you find the vital coverage you and your family need.
Your Life is Changing, So Should Your Life Insurance
If you secured a policy years ago, the effects of inflation may have decreased the level of protection you thought you had. TMA Insurance Trust wants to be sure as many physicians as possible have access to essential life insurance protection.
Consider supplementing your current coverage with an affordable term life policy to protect yourself and your loved ones. With some required underwriting, Texas physicians in their 70's can receive a ten-year level term policy. Contact us to see what options are available to you.
Unparalleled Service
As a physician, you have spent a lifetime caring for others. It is our mission to be there for you every step of the way. Our advisors are dedicated to providing you exceptional support and care throughout your career and into your retirement.
Call today to speak with your personal TMA Insurance Trust advisor at 800-880-8181, Monday through Friday from 8:00 am to 5:00 pm, CST.
For over 60 years, TMA Insurance Trust advisors have been serving Texas physicians, their families and staff. TMA Insurance Trust prides itself on offering unbiased information and strategies to members, along with exclusive group rates on a range of the highest-rated plans in the industry.