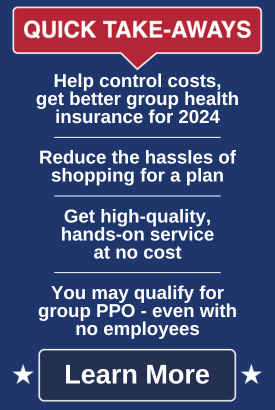 Do you like shopping for health insurance? We didn't think so. Poring over the details of plans, comparing carriers and calculating costs can be complicated and time-consuming.
But Open Enrollment is starting. So once again it's time to decide if you want to keep your current health insurance or take advantage of opportunities to get better coverage. If you'd like to find an alternative to your current health plan – either due to costs or coverage limitations – we're here to help.
As a full service insurance agency we can help with all your group and individual health insurance needs. We're committed to helping practice owners and independent physicians find their best options, while we help save you time and reduce the hassles of shopping for a new plan.
Take Advantage of Special Options
One way we can help practice owners and independent physicians during Open Enrollment is by bringing their attention to special options they may not have known about. These can help practice owners and independent physicians in different ways.
Here's how the special options can help practice owners:
For practice owners looking for group coverage for their practice there are opportunities to help control the cost to your practice and be able to offer your employee's group health insurance – including a mix of PPO and HMO plans.
For practice owners with employees looking for coverage only for themselves it may be possible to access group PPO plans – usually as long as you have a tax ID number and one full-time employee besides yourself paid under that number. This means you may be able to secure the preferred benefits of a group PPO plan at group rates.
For practice owners with staff on their own health coverage (a spouse's plan or that of another provider) you may be able to get "Group of One" PPO coverage just for yourself and your family.
Here's how the special options can help independent physicians:
For partners with no W-2 employees, you may be eligible for group coverage only for yourself. You'll need to provide partnership documentation and the company's SS4 or recent K-1 (Form 1065).
For physicians who own a business with their spouse, or their spouse is a W-2 wage employee, you may qualify for group coverage even without partnership documentation.
To see how the special options may be able to help you get the health insurance you want in 2024, speak with one of our advisors. They can provide expert advice and guidance so you can make an informed decision. And since they don't work for sales-based commissions, you can be certain that your best interests are their number one priority.
800-880-8181
8:00 – 5:00 CST Monday – Friday
Save Time With Hands-On Service
TMA Insurance Trust is also dedicated to offering Texas physicians high-quality, hands-on service – before and after you enroll.
Our advisors will provide quotes, recommend a plan, and help you and your staff complete the enrollment process. Once you've chosen a plan they can help relieve you of the burden of many administrative tasks. They'll see that your staff receives their insurance cards and important information and help them make changes throughout the year. And they'll do this at no extra cost to your practice.
Preparing to Open Your Own Practice? Call Us
If you're preparing to open your own practice, we can help you start your own group plan. We can show you a number of options from top-rated carriers that include both group and individual plans.
Don't Miss Your Chance For Better Coverage In 2024
If you want the best coverage that works with your needs in 2024 now is the time to get started. Open Enrollment documents must be complete and submitted to the insurance carrier by December 13th, 2023 for a January 1st, 2024 effective date.
Don't miss your chance to get the health insurance you want. Speak with an advisor at 800-880-8181, Monday to Friday 8:00 to 5:00 CST.
For over 65 years, TMA Insurance Trust advisors have been serving Texas physicians, their families and staff. TMA Insurance Trust prides itself on offering unbiased information and strategies to members, along with exclusive group rates on a range of the highest-rated plans in the industry.