THE CLOCK IS TICKING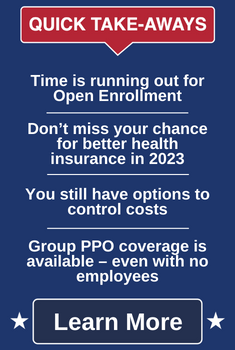 We know physicians have a lot on their plate. From the time you start work in the morning until the day is done you're called on to make one decision after another. So right now the last thing you probably want to do is make a new decision about health insurance.
But time is running out for Open Enrollment – and this could be your last chance to find better health insurance for 2023.
There's still time to get a plan that could help you control costs and provide more comprehensive benefits than the coverage you have now. In addition to offering top-rated group plans from leading national carriers, we can see if you're eligible for certain options that may at this time be valuable to both practice owners and independent physicians.
Special Waivers For Practice Owners
During Open Enrollment there are special health insurance options and waivers available that can help practice owners and independent physicians in many ways.
For small practice owners, the special waivers can impact how you manage group health coverage for yourself and your employees. You may not have to adhere to certain criteria typically in place for group coverage. This is particularly relevant when it comes to group PPO health insurance – the coverage that is usually preferred because of the flexibility and freedom of choice it provides.
With the waivers, practice owners can pay what their practice can afford for their employees' health insurance premiums. And regardless of how much you contribute, you may be able to qualify for group PPO coverage for just yourself and your family. You could end up getting the PPO coverage you want while offering other options to your staff – which can include a mix of group PPO and HMO plans.
800-880-8181
8:00 – 5:00 CST Monday – Friday
Attract Top Employees – Retain Valued Staff
With the freedom to contribute what you wish, the waivers can make it easier for practice owners to provide health benefits for their staff. As many businesses struggle to find quality employees in today's competitive marketplace, this can be an advantage. Offering health benefits can be an attractive incentive for potential employees, while helping to retain those you value most.
Independents Do Well With Special Options
For independent physicians who do not have employees, there are special options which can also provide important benefits. Independent physicians who might have thought they were only eligible for an individual HMO plan, may now qualify for group HMO and PPO plans at group rates – even if they have no employees. You could be eligible for a group HMO plan that costs less than an individual HMO plan – with comparable benefits.
Here's what you need to know:
For partners with no W-2 employees, you may be eligible for group coverage only for yourself. You'll need to provide partnership documentation and the company's SS4 or recent K-1 (Form 1065).
For physicians who own a business with their spouse, or their spouse is their W-2 wage employee, you may qualify for group coverage even without partnership documentation.
Watch Out For Shortcomings Of Short-Term Plans
We understand that for many physicians it may seem like health insurance premiums are continually rising. But we caution against what might be the temptation to secure so-called short-term health insurance.
These plans often come with numerous limitations. If there ever came a time when you or your employees needed important benefits, you don't want to risk finding out you're not covered.
With the special options and waivers, you may be eligible for more comprehensive group coverage that also works with your budget.
Get a Second Opinion About Your Current Plan
To see if a new health plan makes sense, we suggest you get a second opinion from one of our advisors before the clock runs out.
With their knowledge and experience, they can tell you honestly if they think it's worth it to keep or upgrade your current plan. Our advisors don't work for sales-based commissions so you can trust their guidance to be fair and without bias.
If they think you can benefit from the special options or waivers, they can recommend a plan from a nationally known carrier. They also can save you from the hassles of time-consuming research by outlining benefits, securing quotes, and comparing policies for you or your practice manager.
Make The Call Now For Better 2023 Coverage

Don't miss your chance for better health insurance for 2023. All enrollment documents must be completed and submitted to the insurance carrier by December 12, 2022 for a January 1, 2023 effective date. Take advantage of this opportunity for better coverage for 2023. Call us at 800-880-8181, Monday to Friday 8:00 to 5:00 CST.
For over 60 years, TMA Insurance Trust advisors have been serving Texas physicians, their families and staff. TMA Insurance Trust prides itself on offering unbiased information and strategies to members, along with exclusive group rates on a range of the highest-rated plans in the industry.