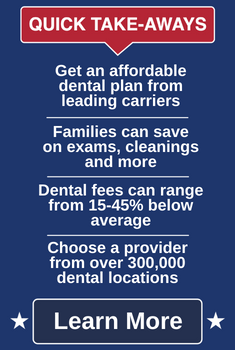 Have you been missing visits to your dentist? If so, it's not surprising. You work long hours. Your schedule can be packed. Plus, the cost of a routine exam with a full set of x-rays can seem expensive – as it seems the cost of almost everything continues to rise.
But skipping regular visits to the dentist can have a negative impact – not just on oral health, but on your overall health as well.
Look At The Mouth-Health Connection
As a physician, you know about the link between poor oral health and serious conditions like cardiovascular disease and increased risk of a stroke. Other conditions that might be linked to poor oral health include eating disorders, rheumatoid arthritis, certain cancers and Sjogren's syndrome – an immune system disorder that causes dry mouth.
Close The Gap In Your Health Coverage
Unfortunately, routine dental care is not covered by most health insurance plans. This leaves it up to the individual to secure their own dental insurance for themselves and their family. Without this coverage, it's easy to forego regular visits to the dentist and put yourself at risk for problems that could require more extensive – not to mention more costly – procedures in the future.
But that's a problem that's not hard to fix.
800-880-8181
8:00 – 5:00 CST Monday – Friday
You Have Options – One With Exclusive Savings
Whether you've been missing dentist visits or you've been vigilant about checkups, dental insurance can help defray costs and save you money. And TMA Insurance Trust may be able to provide you with the options you need.
We offer plans from leading carriers, including one plan from MetLife that provides TMA members with exclusive savings. It can help reduce out of pocket costs and comes with affordable premiums and low co-pays for a number of preventive and restorative services – including cleanings, oral exams, crowns, bridges, and implants.
Negotiated fees typically range from 15-45% below the average fees charged in a dentist's community for the same or substantially similar services. And it allows you to choose a dentist from over 300,000 dental locations in the MetLife network that includes nearly 80% of dental offices nationwide.
Complement Your Coverage And Save
When you add up the benefits and cost savings for you and your family, dental insurance can be a smart way to complement the coverage you already have with your health insurance.
If you're not covered by an employer plan, or you're not happy with the dental coverage you have, speak with one of our advisors about getting a plan that works best for you and your budget. Call us at 800-880-8181, Monday through Friday, 8:00 to 5:00 CST.
For over 60 years, TMA Insurance Trust advisors have been serving Texas physicians, their families and staff. TMA Insurance Trust prides itself on offering unbiased information and strategies to members, along with exclusive group rates on a range of the highest-rated plans in the industry.