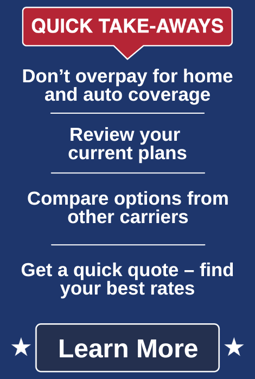 Winter is once again on its way. And with it comes the threat of severe weather and the risk of accidents on the road and damage to your property.
Given the severity of recent winter weather in Texas, you might want to review your current home and auto policies to see if they provide you with the best possible protection. You can't control the weather, but you can be prepared should an extreme weather event wreak havoc on your home or car.
Watch Out For Rising Rates
Reviewing your policies can be a good idea at this time for two reasons. One, it can help determine if you have appropriate protection/coverage for your needs. And two, it could uncover savings opportunities you might have been missing.
For instance, did you know your home and auto insurance rates can increase over time? This can happen for various reasons and you may not have noticed it. You could see increases of hundreds of dollars a year – which can add up over many years. If your rates have gone up significantly since you purchased your coverage, you may want to explore other options.
877-755-9576
Bundling Plans Can Save Time and Money
One option might be to switch insurance companies. You can often find better deals and packages with different carriers. Want a savvy tip? Look for carriers that let you combine policies for multi-policy discounts.
Bundling auto and homeowners plans with the same insurance company can save you time and money. You could save up to 20% with a multi-policy discount – with the added convenience of one bill and less paperwork.
Many companies also offer additional discounts to reduce costs – including anti-theft, good driver, and student driver policy options. In addition, as a TMA member you also qualify for an exclusive members-only discount.
Compare Plans, Get Quotes, Find Savings
TMA Insurance Trust has made it easy to find out if you can save on auto and homeowners premiums. Spend just a few minutes at MyLifeProtected, available through our website, and you can compare your current rates to the best rates in your area.
You can get quotes from companies like Travelers and other leading national carriers. Simply click on the button below to get started. You don't even have to speak with an agent.
If you do want personal assistance, you can contact an agent to develop a quote for you by calling 877-755-9576. Call or click now to find your best options to keep you prepared for the challenges of the upcoming winter season.